HEATING SYSTEM SERVICE PROTECTION PLANS YOU CAN COUNT ON, GUARANTEED
As a New York homeowner, it's important to know exactly what your service plan covers. Schildwachter's service plan offers one of the best values in the industry. We want you to feel secure knowing your home comfort system is in good hands. Therefore, we have carefully developed a comprehensive plan to cover all of your heating needs. From regular maintenance to emergency service, our commitment to your home comfort is unwavering.

THE SCHILDWACHTER GOLD SHIELD SERVICE PLAN - THE GOLD STANDARD IN SERVICE AND SATISFACTION.
Includes:
• Emergency Burner Service • Oil Burner Parts • Annual Burner Maintenance • Boiler or Furnace Cleaning • Electrical Parts • Fuel Handling System • Fuel Oil Tank Replacement Coverage • Additional Covered Items
NOT ALL SERVICE PLANS ARE CREATED EQUAL.
The Gold Shield Service Plan is widely regarded as one of the most comprehensive protection plans you can purchase. More than just a "burner service plan," its coverage extends to areas throughout your heating system that most other plans just don't include. Our technicians will tune up your system before the heating season begins and be on call all winter long if anything goes wrong. Take a look at these advantages behind "the shield":
OUR "ZERO BILL" FEATURE
Many of our competitors' service plans cover some of the parts our Gold Shield Plan does, but they often don't cover the labor to install those parts. That means their customers still get billed for a labor charge, even though the part was "covered" by the plan they already paid for!
Our Gold Shield Plan covers total labor charges on all full coverage parts (shown in green on the plan), leaving you nothing to pay on all such calls. Plus, oil burner tune-ups and boiler cleanings are fully covered, even if they are needed more than once a year.
ANNUAL BURNER MAINTENANCE
Your family's comfort is important to us. So we don't cut corners when it comes to preventative maintenance. The Gold Shield Service Plan includes a 12-Point Tune-Up — a scientific cleaning and tuning of your heating unit. When completed, your Schildwachter service technician will give you a report showing your burner's combustion efficiency. It's the smart way to be sure you're getting the most out of every gallon of oil you buy, and that your heating system is operating at peak performance.
BOILER OR FURNACE CLEANING
We ensure that your boiler or furnace is a "clean machine." A properly operating burner produces little, if any, soot at all. Occasionally, your burner may stray out of proper adjustment, and that's when your boiler or furnace, including your flue pipe and chimney base, will need to be cleaned. Whether chemically cleaned, or cleaned with a wire brush and vacuum cleaner, this procedure is also covered by your Gold Shield Plan whenever it is needed.
EMERGENCY BURNER SERVICE
Sometimes you need more than just fuel oil to keep warm all winter long. Our Gold Shield Service Plan includes emergency service at no additional charge to assure you of help when you need it most. Emergency service is available to all other Schildwachter customers at prevailing rates, and is only available to customers purchasing all their oil needs from Schildwachter.
SPECIAL FUEL OIL TANK REPLACEMENT COVERAGE
"Tanks a lot!" As a Schildwachter customer with a Gold Shield Plan in effect, that's what you'll feel like saying, as you will be entitled to a special credit toward future Schildwachter oil purchases if you replace your fuel oil storage tank for any reason.
Storage Tanks Hold More Than Just Oil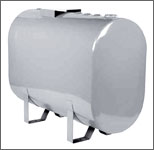 There are a lot of misconceptions out there about heating oil tanks. You may think tanks are unsafe ... or that they're subject to legal issues. Educating new and prospective homeowners about the benefits of oil tanks will allow them to feel more comfortable when choosing an Oilheated home.
SAFETY
Today's oil tanks are designed with corrosion-resistant materials for long life and safety.
Below-ground tanks are installed using new, innovative technologies.
Oil actually protects the tank.
According to a scientific study, less than 1/4 of 1 percent of all underground tanks nationwide ever experience a release.
Heating oil moves slowly in most soils, so any discharge is usually confined to a small area.
LEGAL ISSUES
In the U.S., all underground residential heating oil tanks regardless of size are exempt from all federal regulations.
In New York, all underground tanks with a capacity greater than 1,100 gallons need to be registered. (The typical home heating oil tank is 275 gallons.)
CONVENIENCE
A tank located on his or her property puts the homeowner in charge of supply.
Homeowners pay only for Oilheat received.
Tanks are cost-efficient - the homeowner uses only what's needed.
Automatic delivery assures that the homeowner never runs out of Oilheat.
Independence and peace of mind are big tank benefits.
VERSATILITY
Tanks can be located in the basement, garage, underground or next to the home.
New tanks are compact in size, to fit inside small nooks and crannies in the basement or garage.
If you have any questions regarding service plans, please contact us.