SCHILDWACHTER OIL:
FUELING RELATIONSHIPS
...From ice cold to toasty warm thanks to superior customer service.
Fred Schildwachter, an immigrant from Bergheim, Germany, established his ice business in 1904, tapping resources from above the salt water line of the Hudson River and transporting the final product to ice boxes across New York City with his horse and wagon. He later constructed a manufacturing plant that used New York's supply of fresh, pure water from the Catskill Mountains, but the booming business took a hit in the 1920s with the advent of the refrigerator.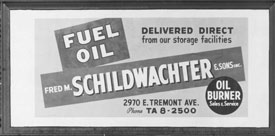 With a loyal customer base already established, Schildwachter realized he could build a lucrative fuel oil business and created Fred M. Schildwachter & Sons, Inc. More than 100 years later, Schildwachter Oil provides high quality fuel products to homes, businesses, and institutions throughout The Bronx, Manhattan, and Westchester County. Grandson Dan credits the company's customer-centric focus for its success. "Our view is that if it is good for the customer, it is good for our company," he said.
SERVICE EXCELLENCE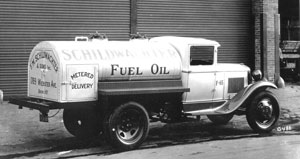 Unlike other oil companies that organize their customer service departments according to region or service, each Schildwachter Oil customer is assigned a single representative. That representative is responsible for all aspects of the customer relationship, from billing to fuel delivery to equipment and sales. "If a customer experiences any problem, he or she can talk directly to a representative with whom he or she has a long-standing relationship," said Schildwachter, adding that this business model not only contributes to customer loyalty but also helps engage employees.
Schildwachter Oil furnishes, installs, and services all major-brand equipment, including Burnham Hydronics, H.B. Smith, and Buderus boilers; American Standard and York furnaces; Beckett, Carlin, and Riello oil burners; SuperStor and Amtrol indirect water heaters; and LuxPro, White Rodgers, and Honeywell thermostats.
To encourage customers with older fuel oil storage tanks to upgrade, Schildwachter created the Gold Shield Heating Service Plan (GSHSP). Customers who participate in GSHSP receive a $150 credit toward future fuel oil deliveries when they purchase a new fuel oil storage tank. GSHSP also provides labor and parts to replace the oil burner components and operating controls. Most importantly, the plan covers annual preventative maintenance, including combustion testing to set equipment to its most efficient.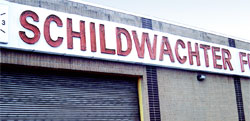 "Often, we find that heating equipment operates dependably for many years but is not able to perform as efficiently as the newer models," said Schildwachter. "Our service techs have most contact with our customers and are happy to make helpful suggestions. Sometimes just lowering the thermostat by 10 degrees during the night or when away from the house can mean savings of as much as 10 percent to 15 percent."
Over the years, the company has developed a line of innovative, efficient fuel products and additives, including ultra low sulfur diesel (ULSD) for transportation and biodiesel. The company has for many years treated its premium heating oil with Gold Shield Energizer (GSE), a specially formulated detergent that gradually cleans oil handling systems and, over time, turns sediment at the bottom of the tank back into usable product.
Schildwachter Oil has been promoting Bioheat® fuel for transportation since 2002, and since then has tested Bioheat® fuel in heating applications. In 2006, it began offering Bioheat® fuel to all customers. The additional costs associated with biodiesel are far outweighed by its benefits, which include reduced dependence on imported oil and greater lubricity, meaning less wear on equipment. And because biodiesel does not contain sulfur, it is considered environmentally friendly.
In November 2002, New York City celebrated Biodiesel Day at Schildwachter Oil's 5 million gallon barge terminal in The Bronx, earmarking its pioneer status in blending and furnishing Bioheat® fuel gallon transportation fuels and bringing a cleaner, value-added heating fuel for its customers. The initial barge load of biodiesel was received last February.
ALL FOR ONE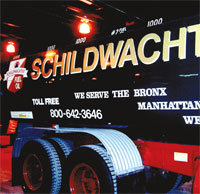 In more than 100 years of business, Schildwachter Oil has made several acquisitions but never ventured far beyond its original service territory, and for good reason. According to third generation Dan Schildwachter, the heating business is a local business. "Bigger isn't always better. If we started providing service outside our immediate territory, we would spend more time driving than providing service," said Schildwachter, adding that the stable populations of The Bronx, Manhattan, and Westchester can sustain the company's growth for the next 100 years.
But the future also depends on maintaining the Schildwachter family's all-for-one attitude. Schildwachter explained that each member of the family active in the business puts the best interest of the company before any personal agenda.
Personality conflicts are inevitable in any group, much less a family, but the bottom line is that each of us uses our talents and abilities for the good of the company. That is what our elders taught us and what we are passing down to the next generation.
HISTORIC PHOTOS