SCHILDWACHTER INSTALLS & REPAIRS HEATING EQUIPMENT THAT PROVIDES COMFORT & SECURITY FOR NEW YORK FAMILIES
Working with all the top names in the industry, our factory-trained technicians are experts in the field. They pride themselves on installing the product correctly the first time, making sure the equipment is running right for your comfort and convenience. We stand behind our work and our products to ensure your satisfaction at all times.
The right equipment installed the right way — that's the Schildwachter advantage. Simply contact us to find out which product is right for your needs.
Check below for a sampling of our state-of-the-art product line.
Get a Programmable Thermostat ... Stat!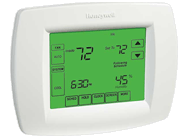 According to the U.S. Department of Energy, you can save as much as 10 percent a year on your heating and cooling bills by simply turning the thermostat back 7° to 10° for 8 hours. And you don't even have to remember to do so - it can be done automatically without sacrificing comfort by installing a programmable thermostat.
Using a programmable thermostat - also called an automatic setback, day/night or clock thermostat - you can adjust the times you turn on the heating or air-conditioning according to a pre-set schedule. As a result, the equipment doesn't operate as much when you're asleep or when the house or part of the house is not occupied.
Programmable thermostats can store and repeat multiple daily settings (six or more temperature settings a day) that you can manually override without affecting the rest of the daily or weekly program.

TIP: When shopping for a programmable thermostat, it's important to look for the ENERGY STAR®. ENERGY STAR® is a government-backed program helping businesses and individuals protect the environment through superior energy efficiency.
Contact us today for more information, service, system evaluation or installation!